Arkansas Duck Hunting Season Dates
2016 - 2017 Season
November 19 - 27
December 8 - 23
December 26 - January 29, 2017
*Shooting Times: 30 Minutes Before Sunrise Until Sunset.
Species: Mallards, Wood Ducks, Redheads, Canvasback, Pintails & Teal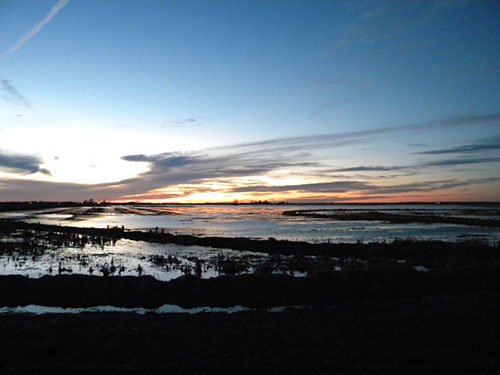 For additional booking information call:
Jennifer Menard: 870-830-5410
Kevin Williams: 870-344-3012
Office: 888-764-3130
Arkansas Guided Duck Hunting
Old Post Lodge Daily Rates

Guided Duck Hunts: includes Meals, Lodging, Guide Service, Morning Hunt & Game Processing
$500 per Hunter
$300 children 15 & under
Goose Hunt: includes Guide Service and Afternoon Hunt
$250.00 per hunter.
Non-Hunters: Meals and lodging only
$300 per Guest
$200 for children 15 & under
50% non-refundable deposit is required for reservation.  Balance is due upon arrival. Checks & Credit Cards are accepted –
Visa – Master Card – American Express
Required Equipment
Hunters will need to bring the following items:
SHOTGUN: Most hunters will be shooting a 12 or 20 gauge.

SHELLS: We recommend using shot size #2 or non-toxic shot #4 or larger.

BOOTS: Chest waders are the preferred footwear.

RAIN GEAR: A camouflage rain jacket along with wide brimmed water proof hat.

CLOTHING: Warm camouflage clothing is a must, layers work best. You will also need gloves, face mask and ear plugs for your protection.
Arkansas Duck Hunting Information
Daily Bag Limits: - Six ducks. Limit may include no more than four mallards (no more than two of which may be hens), three wood ducks, two redheads, one black duck, three scaup, two pintails, two canvasback and one mottled duck. Duck and teal species not listed have no extra restriction beyond the six duck total bag limit.
Coot Daily Bag Limit: 15
Coot Possession Limit: 45
Merganser Daily Bag Limit: 5
Limit may include no more than two hooded mergansers.
Merganser Possession Limit: 15
Hunting License, State and Federal Waterfowl stamps are required.  Our Staff will be happy to assist you in obtaining these requirements upon request. 
Our guides are looking forward to providing you with a safe & memorable duck hunt!  They will also provide transportation to & from hunting areas.
2016 Early Canada Goose Season
Sept. 1 - 30
Daily Bag Limit: 5
Possession Limit: 15
2016-2017 Regular Canada Goose Season
Nov. 16 - Dec. 2, 2016
Dec. 4 - Jan. 29, 2017
Daily Bag Limit: 2
Possession Limit: 6